Palaeos: Main Glossary
---
The following, inevitably incomplete, introductory glossary of terms and concepts links to other topics discussed elsewhere on this site, as well as including general topics of interest such as well-known prehistoric animals. It still needs to be modified more by removing some more technical terms, and adding more common terms. Inevitably there is some duplication with other glossaries.
Some of the references and source material used in compiling this list include Wesley R. Elsberry's talk.origins jargon FAQ (mirror as convenient single document text file and William Hudson's more readable glossary of terms, and also more relevant as a general evolution and science glossary (Talk Origins emphasises good and bad arguments, geek culture, etc.); the US Geological Survey Glossary of Terms, the Understanding Evolution Glossary, the PBS evolution Glossary, as well as Wikipedia: evolutionary biology topics, and other Wikipedia pages on evolution and Creation–evolution controversy; the EvoWiki Encyclopedia (including Geology, Paleontology, Paleontologists, EvoWiki: History of science, although more topics need to be added or listed, and some of my (MAK) own interests and definitions. Where an entry is taken from a single reference, the source is given; sometimes where there it integrates a number of references none is. Due to constraints of time, I have not hyperlinked the entries, nor is this listing complete. In addition, because of limitations of time and energy, or perhaps just sheer laziness and apathy, I have for the most part only included on-line references, which are easier to copy and paste ;-)
---
A | B | C | D | E | F | G | H | I | J | K | L | M | N | O | P | Q | R | S | T | U | V | W | X | Y | Z
---
Figure: selected ammonites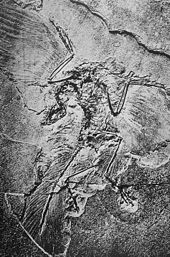 1880 photo of the Berlin Archaeopteryx specimen
From Vogt, C. 1880. "Archaeopteryx macrura, an Intermediate Form between Birds and Reptiles". Ibis 4:434-456.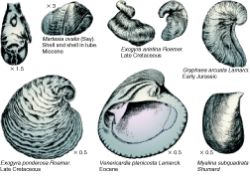 A variety of fossil bivalves
after C. L. Fenton and M. A. Fenton, The Fossil Book, Doubleday, 1958. (original URL)
Figure: Tyrannosaurus rex charges the "duck billed" herbivore Trachodon (later renamed Anatotitan and Edmontosaurus).
Simple cladogram classifying vertebrates according to their synapomorphies (shared unique characteristics). Most cladograms involve many hundreds of characteristics
Charles Darwin aged 51
Head and teeth of Deinotherium giganteum, from the Pliocene epoch.
from the book Kameno doba by Jovan Zujovic (1856-1936)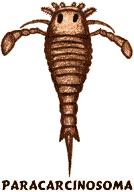 The eurypterid Paracarcinosoma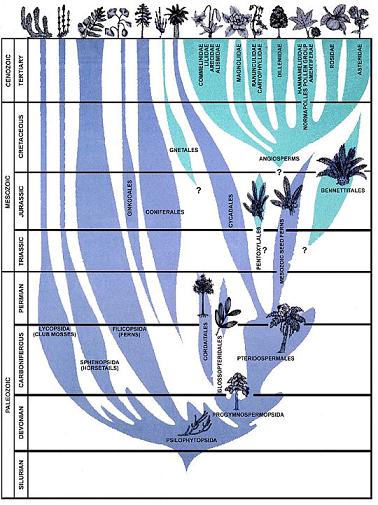 Evolution of Plants. This Evolutionary systematics spindle diagram plots generic diversity (width) against time (vertical axis). In contrast to cladistics, the tree is rooted in ancestral groups and paraphyletic taxa. Angiosperms are related forms are shown in turquoise, gymnosperms in darker blue.
Appeared in a special Scientific American issue devoted to the evolution of life (ed. note: need to find citation).

Nummulitid foraminiferans from the Eocene near Al Ain, United Arab Emirates. Microspheric and megalospheric specimens shown. Scale in mm.
Phanerozoic PH

Cenozoic CZ

Neogene N

23.0–

65.5–23.0

Mesozoic MZ

146–65.5

Jurassic J

200–146

Triassic T

251–200

Paleozoic PZ

Permian P

299–251

359–299

Devonian D

416–359

Silurian S

444–416

488–444

Cambrian Є

542–488

Proterozoic PR

2500–542

Archean AR

3800–2500

Hadean HA*

3850–4500

Chaotian CH*

–4500
Inostrancevia, a large gorgonopsid
Hallucigenia
illustration from Harold L. Levin, The Earth through Time
The principle of homology: the common derivation (shown by colors) of the various bones in the forelimbs of a human, dog, bird, and whale. All four descended from a common ancestor (a basal amniote) who likewise had that particular type of forelimb.

from Wikipedia under Creative Commons/Public Domain.

The streamlined bodies of (a) a shark, (b) an ichthyosaur and (c) a dolphin, an example of homoplasy. Despite the superficial similarity, each descended from very different ancestors; the shark from an earlier fish-like form, the ichthyosaur from a diapsid reptile of lizard-like appearance, and the dolphin from a somewhat dog like ungulate.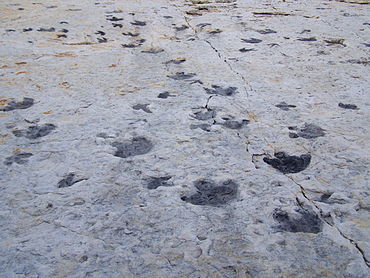 Dinosaur footprints, preserved at Dinosaur Ridge, Morrison Formation (late Jurassic), Colorado
Laelaps (now Dryptosaurus)
Skull of Cynognathus, an Early Triassic mammal-like reptile (Therapsida: Cynodontia), combining reptile and mammal features. Karoo of South Africa.
The March of Progress
Tree of life according to molecular phylogeny
By Ivica Letunic. Retraced by Mariana Ruiz Villarreal
Conceived independently and then jointly published by Darwin and Wallace, and substantially elaborated upon in the early part of the twentieth century with the rediscovery of Mendelian genetics and then advances in population genetics.

The ostracoderm Hemicyclaspis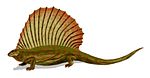 The herbivorous Permo-Carboniferous pelycosaur Edaphosaurus

Permian period, featuring the carnivorous pelycosaur Dimetrodon and the large amphibian Eryops
Reconstruction of Sordes pilosus, a Jurassic pterosaur. Fossils show that these animals had a furry coating, which implies they were warm-blooded like birds and mammals.
Class Reptilia - a paraphyletic taxon
diagram by Stanislav Traykov & Fatapatate via Wikimedia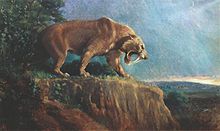 Smilodon fatalis
Illustration by Charles R Knight.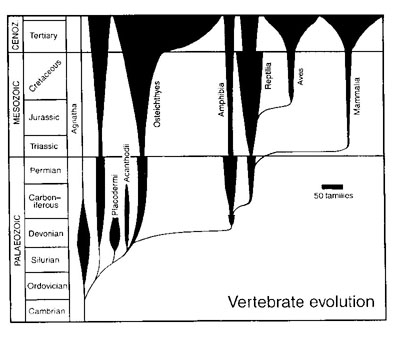 Spindle Diagram, showing evolution of the vertebrates, showing the relative importance of the major groups through time. The vertical axis represents geological time, and the horizontal axis represents the diversity of each group, in terms of number of families. Includes both monophyletic clades, such as Chondrichthyes, Placodermi, Acanthodii, Aves, and Mammalia, and paraphyletic groups such as Agnatha, Amphibia, and Reptilia.

Stromatolites, Zebra River Canyon, Namibia - Proterozoic age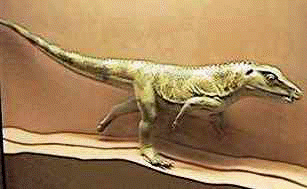 Ornithosuchus
Life restoration of Tiktaalik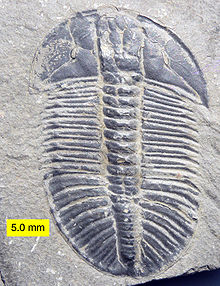 Olenoides serratus from the Mt. Stephen Trilobite Beds (Middle Cambrian) near Field, British Columbia, Canada.
---
A | B | C | D | E | F | G | H | I | J | K | L | M | N | O | P | Q | R | S | T | U | V | W | X | Y | Z
---