Evolution : Glossary
---
A | B | C | D | E | F | G | H | I | J | K | L | M | N | O | P | Q | R | S | T | U | V | W | X | Y | Z
---
A
Spindle diagram showing the adaptive radiation of placental mammals in the Cenozoic (Geological timeline at top of diagram). Placentals radiated rapidly after the extinction of the dinosaurs, and the modern diversity of form was established within the first 10 million years of the Tertiary (during the Paleocene). (Based on Gingerich 1984.)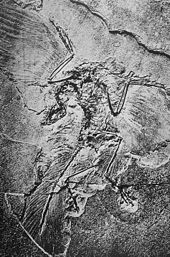 1880 photo of the Berlin Archaeopteryx specimen
From Vogt, C. 1880. "Archaeopteryx macrura, an Intermediate Form between Birds and Reptiles". Ibis 4:434-456.
The Evolution as Progress meme is however immensely influential in human thinking. It appears in Marxism, in Theosophy, in Humanism, in Transhumanism, and elsewhere besides. It is criticized and rebuked by anti-evolutionist religious creationists, who think they are opposing Darwinism, when they are actually opposing something that has nothing to do with Darwinism. Some popular thinkers, such as Teilhard de Chardin, have argued for an anthropocentric cosmology, culminating in a future omega point. (MAK)
B
C
Cladogenesis
according to Moore, Lalicker, & Fischer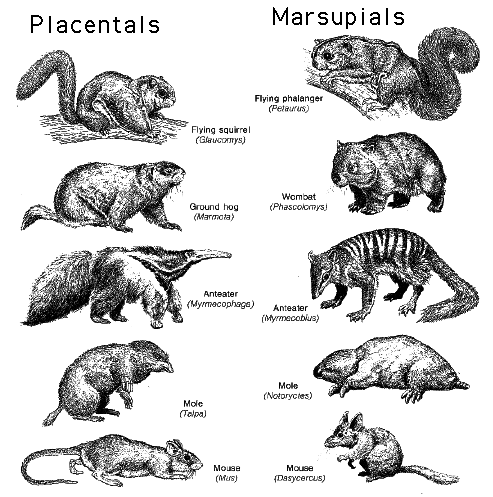 Convergence of forms between placentals (left) and marsupials (right).
D
Charles Darwin aged 51
E
In Smith's and Price's paper, "The Logic of Animal Conflict", a computer model was used to show why animals had not adapted a "total war" strategy. Adaptations for males focused on maximizing their ability to compete with each other in order to maximize their dominance over a territory and better compete for mates. Using game theory, they were able to test a variety of evolutionary strategies to see which one emerged with the highest average payoff, explaining why animals have only evolved limited war strategy, in which risk of serious injury is low. (Wikipedia)
F
G
Gene selection theory is central to the understanding of contemporary evolutionary theory, and has developed from population genetics and the modern synthesis, and was established as the leading theory of natural selection during the Williams revolution. The revolution was based on the findings of population genetics, and other principal architects of the revolution include W.D. Hamilton, John Maynard Smith, Robert Trivers and Richard Dawkins, who popularised the revolution in The Selfish Gene.
There is still some scientific debate about gene selection, which leading biologists such as Ernst Mayr rejecting the theory. Mayr (2000) states that the gene can not be the object of selection because it is the whole organism that lives, reproduces and dies, not individual genes. This, however, is not a problem for gene selectionism, which has always maintained that part of the environment in which genes are selected includes the other genes in the population, but because of recombination no combination of genes exist more than once, so although individuals may be the object of selection, genes are the units, and evolution consists of a change in independent allele frequencies in populations. (EvoWiki)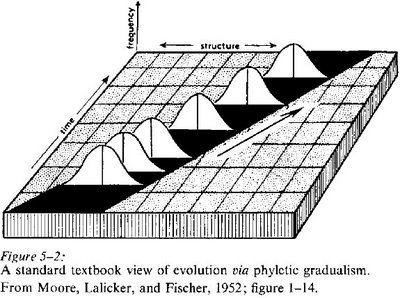 Phyletic gradualism
according to Moore, Lalicker, & Fischer
H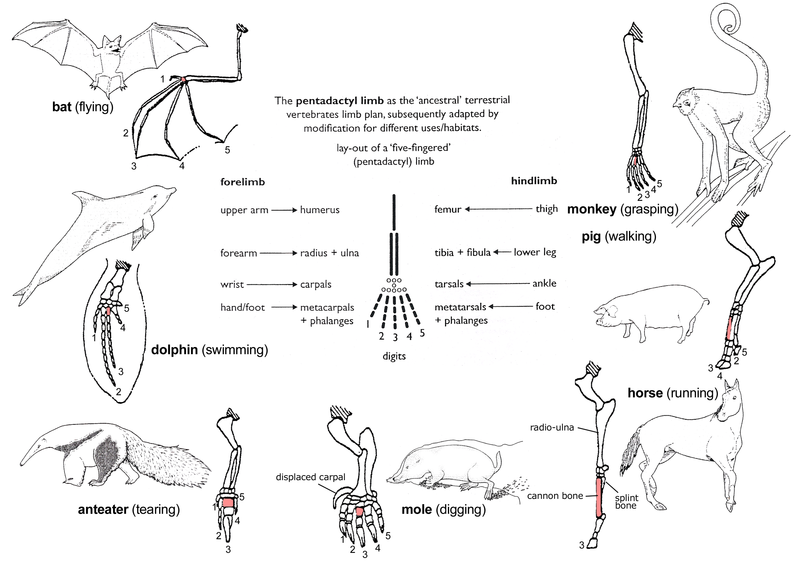 The principle of homology illustrated by the evolutionary radiation of the forelimb of mammals. All conform to the basic pentadactyl pattern but are modified for different usages. The third metacarpal is shaded throughout; the shoulder is crossed-hatched.
Homoplasy in relation to apomorphy, autapomorphy, synapomorphy, plesiomorphy and symplesiomorphy
I
J
K
L
M
Sexual cycle
By Wikipedia users Seb951 and Stannered.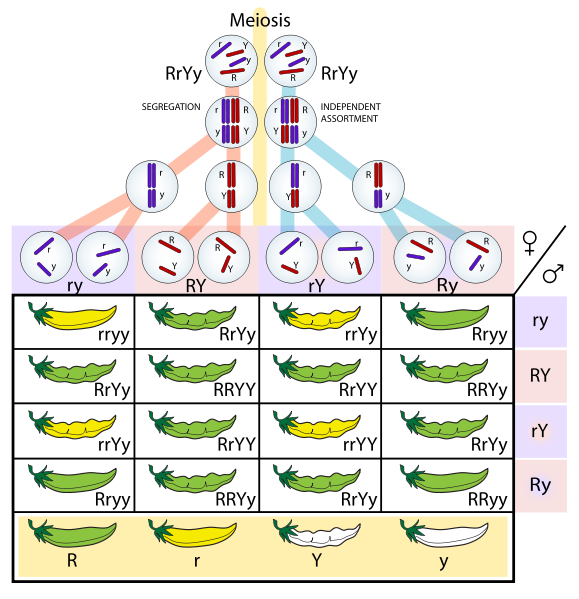 Table showing how genes exchange according to segregation or independent assortment during meiosis and how this translates into the Mendel's Laws.
The Modern Synthesis is a theory about how evolution works at the level of genes, phenotypes, and populations whereas Darwinism was concerned mainly with organisms, speciation and individuals. Modern Synthesis differs from Darwinism in three important aspects: 1. It recognizes several mechanisms of evolution in addition to natural selection. One of these, random genetic drift, may be as important as natural selection. 2. It recognizes that characteristics are inherited as discrete entities called genes. Variation within a population is due to the presence of multiple alleles of a gene. 3. It postulates that speciation is (usually) due to the gradual accumulation of small genetic changes. This is equivalent to saying that macroevolution is simply a lot of microevolution. (W. R. Elsberry in talk.origins via W. J. Hudson)
N
O
P
Gradual and Punctuated evolution
Q
The quasispecies model is useful in providing a qualitative understanding of the evolutionary processes of self-replicating macromolecules such as RNA or DNA or simple asexual organisms such as bacteria or viruses (viral quasispecies), and is helpful in explaining something of the early stages of the origin of life. Quantitative predictions based on this model are difficult because the parameters that serve as its input are hard to obtain from actual biological systems. The quasispecies model was put forward by Manfred Eigen and Peter Schuster based on initial work done by Eigen. (Wikipedia)
R
S
T
U
V
W
X
Y
Z
Links
Some Links to other glossaries: (some of which have been used here) Evolution: Glossary, very detailed general glossary, Synthetic Theory of Evolution: Glossary of Terms, includes pronunciations; Phylogenetics Glossary, various technical, mostly phylogenetic and cladistic terms. By the Evolution discussion group (fall 1996); Modified from: Hillis, D.M., C. Moritz and B.K. Mable (eds). 1996. Molecular Systematics, Second Edition. Sinnauer Assoc., Massachusetts.; Talk.Origins Jargon, includes not only technical terms but also a list of who's who, slanted to the Creation–Evolution debate, but also of general value.
---
A | B | C | D | E | F | G | H | I | J | K | L | M | N | O | P | Q | R | S | T | U | V | W | X | Y | Z
---