Therapsida
The Vertebrates
420: Dinocephalia: Estemmenosuchidae
Therapsida: Dinocephalia: Estemmenosuchidae
---
---
Taxa on This Page
---
Dinocephalia: Estemmenosuchidae
Life reconstruction of Estemmenosuchus uralensis
Estemmenosuchus mirabilis
illustration copyright © Satoshi Kawasaki
With the decline of the Kungurian and Ufimian caseids, the herbivorous Estemmenosuchidae took over the role of top herbivore. These were massive, clumsy-looking animals, with a sprawling posture, reaching the size of an adult bull, although some types were smaller.
The skull is high and massive. The creature is equipped with several bizarre set of large horns projecting both upwards and outwards, probably used for intra-specific display. There are five large teeth on the maxillae (upper jaw bone), rather short canines, and at least twenty small and uniform post-canines. Each tooth has a swollen crown and a sharp, laterally compressed at the apex. There are also numerous small teeth on the palate (vomers, palatines and pterygoids). The reduced side teeth, with a bulky body for digesting volumes of plant food, indicate a herbivorous lifestyle, despite the large canines. Vegetable matter was grasped with the strong front teeth and swallowed without chewing, as the weak and thin side teeth only served to keep food in the mouth. These animals would nevertheless have taken carrion when they could find it, as the great force exerted by the chisel-like front teeth could cut up meat quite easily.
As with the tapinocephalids of the early Capitanian epoch, a number of types are known, and it seems that, for a short time, the estemmenosuchids constituted a successful evolutionary radiation. Connections are sometimes suggested with Styracocephalus, but in the estemmenosuchids the 'horns' are situated on the frontals and directed dorsally. In Styracocephalus the 'horns' are formed by the tabular and directed posteriorly. Otherwise their features very similar to those of Styracocephalus. It is not possible to say therefore whether the relationship is one of ancestor- descendent or simply evolutionary convergence due to similar lifestyle, although difference in the bones forming the horns would suggest the latter.
The remains of Estemmenosuchus have been found in a channel flood deposit, indicating that they probably frequented lowland and marshy areas.
---
medium to large size; skull with heavy pachyostosis [BS00]; often with numerous knob-like or horn-like protuberances [BS00]; teeth on vomers [BS00]; tail short; herbivorous.
The Estemmenosuchids represent the first major evolutionary radiation of therapsid herbivores. Still rare during the Roadian age, they come into their own during the Wordian, when a number of types of animals occur together; clearly representing a mature evolutionary assemblage, like the Capitanian tapinocephalids whose fossil remains are known from the South African Karoo (Beaufort Group). They range in size from medium-sized animals like Zopherosuchus, to the large Estemmenosuchus which was the biggest animal of its day. The fossil remains of the Estemmenosuchids are so far not known beyond the Permian deposits of the Urals, which at the time was an equatorial lowland environment. So these animals seem to have been tropical, possibly swamp loving, herbivores. The name Estemmenosuchus means "Crested Crocodile", and refers to the strange horns or bony antlers. These animals are distinguished by their bizarre crests and flanges of bone, which were probably for intra-specific behavior. There is great individual variation.
---
A. tenuirostris Tchudinov 1968b ( = Anoplosuchia tenuirostris)
medium-sized [BS00]; skull narrow; preorbital region long, low & broad; outer edge of jaw in region of canine bears weak boss; preorbital skull without excrescences or thickening [BS00] except in posterior nasal region ?); postorbital (skull?) short, weak, broad & high; incisors more or less equal in size to canines [BS00]; numerous small post-canine teeth [BS00].
known from an incomplete skeleton and skull plus referred skull & jaw fragments.
---
Anoplosuchia tenuirostris Chudinov 1968
Upper Kazanian or Lower Tartarian Substage, Middle Permian
Anoplosuchia tenuirostris was a fairly uncommon, medium sized estemmenosuchid with a comparatively narrow skull. There are no horns or thickening, except in the front nasal region.
Known remains consist of incomplete skeleton and skull
---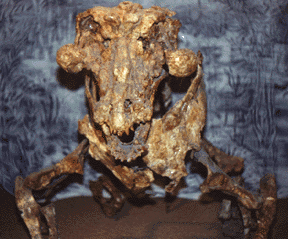 E. uralensis Tchudinov, 1960; E. mirabilis Tchudinov, 1968.
bull-sized; massive skull [BS00]; rather spectacular "horns;" anterior nasal form unpaired boss on dorsal snout [BS00]; jugal & squamosal form massive lateral outgrowth (see image at right) [BS00]; long, curved incisors [BS00]; canines short & thick [BS00]; at least 20 weak marginal teeth [BS00]; note the typically herbivorous teeth in smaller image at right.
E. uralensis is larger, with a longer skull in proportion to width. The postorbitals & postfrontals form a pair of partially fused horn-like protuberances on the skull table just posterior to the orbits. E. mirabilis is smaller, with a shorter skull. The horn pair is shorter, well-separated and the horns extend more laterally. Note that the image at right is a E. mirabilis. [BS00].
---
Estemmenosuchus uralensis Chudinov 1960
Upper Kazanian or Lower Tartarian Substage, Middle Permian
Standard total length up to 4 meters, skull measures 65 cm in length
Estemmenosuchus uralensis was a common, very large (upto 4 meters long - Chudinov 1960 quoted in Olson, 1962 p.79) estemmenosuchid, about the size of a rhinoceros (Vickers-Rich and Rich, 1993), with less prominent horns then E. mirabilis. Originally all specimens were included in this species, but it was since realised that wthere were a number of different species (however, not all palaeontologists agree that these were different species. According to Ivakhnenko 1998 Anoplosuchus and Zopherosuchus are synonyms of Estemmenosuchus uralensis). This peaceful herbivore had much to fear from the giant Eotitanosuchid Ivantosaurus, the only creature in its environment big enough to take on an adult Estemmenosuchus.
Known remains consist of elements of skulls and postcrania
---
Estemmenosuchus mirabilis Chudinov 1968
Upper Kazanian or Lower Tartarian Substage, Middle Permian
Standard total length of over 3 meters, skull measures 40 cm in length
Estemmenosuchus mirabilis was a fairly uncommon, large estemmenosuchid with spectacular moose-like "horns". It had a shorter face than the type species E. uralensis. According to Vickers-Rich and Rich, 1993 irt was about the size of a rhinoceros.
Known remains consist of skull, lower jaw and vertebrae
---
M. arcanus Tchudinov 1964
Late Permian of Russia, Bolshoi Kitiak, Malmych, Kirov. Lower Tatarian Substage.
known only from pelvic bones. Smaller than Estemmenosuchus, but perhaps more massively built [BS00]; flat facets at posterior end of acetabulum; high pubo-ischiadic symphysis.
---
Z. luceus Tchudinov 1983.
small-bodied [BS00]; no cranial horns [BS00]; frontals & parietals particularly thick; temporal fenestrae short, but very tall [BS00]; relatively small number of postcanine teeth [BS00].
---
Zopherosuchus luceus Chudinov 1983
Upper Kazanian or Lower Tartarian Substage, Middle Permian
Standard total length of 1.5 meters
Zopherosuchus luceus was a fairly uncommon, relatively small estemmenosuchid (although still large relative to other animals in its environment). Some of bones at the front of the skull are particularly thickened.
Known remains consist of poorly preserved skeleton and incomplete skull
---
checked ATW031025; last modified MAK091111, MAK091114