The Norian Age - 1
The Norian Age of the Late Triassic Epoch: 217 to 204 million years ago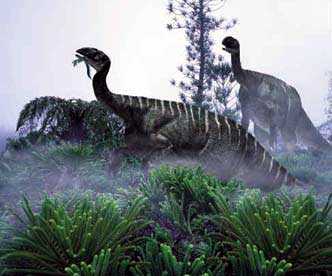 © BBC/ABC from Walking with Dinosaurs and Dynamic Earth - Free Dinosaur ePostcards
The early sauropodomorph dinosaur Plateosaurus; late Norian of middle-north Pangea. As the first of the large herbivorous dinosaurs, Plateosaurus and closely related genera seemingly come out of nowhere to completely dominate terrestrial communities across most of Pangea. The sauropodomorph dinosaurs reached lengths of 8 to 10 meters or more, and weights of 2 tonnes, making them even bigger than the kannemeyerid dicynodonts that had filled the megaherbivore niche for much of the Triassic. Looking at the heavy body, long neck, and small head, we see in Plateosaurus the beginnings of the evolutionary type that would culminate in the gigantic sauropod dinosaurs of the Jurassic and Cretaceous; one of the most successful and impressive evolutionary experiments the Earth has seen
Norian - Overview
The second of the three divisions that make up the Late Triassic period, the term Norian Stage was introduced by Mojsisovics in 1895 and Diener in 1926. The term Juvavic was at one time used. [Harland et al] The Norian stage was named after an ancient Roman province south of the Danube River in present-day Austria [Encyclopædia Britannica]. It is named after strata in the Eastern Alps in Europe [Harland et al]. . Geologically speaking, the Norian Stage underlies the Rhaetian Stage and overlies the Carnian Stage, these three make up the Upper Triassic Series. Chronologically, the Norian succeeds the Carnian Age and is in turned followed by the Rhaetian Age
The Norian was an important period in the history of life on Earth, for it saw the rise to prominence of a number of Mesozoic organisms that had previously played only a minor role in life's drama, and the decline and disappearance of others that had passed their heyday.
Among the successes were the neopterygian fish (the teleosts and their immediate ancestors) in the seas, and the Sauropodomorph dinosaurs (like Plateosaurus, above) on land. Among the losers were the ceratite cephalopods that, although still going strong, were experiencing a constant decline throughout the late Triassic [Teichert 1988 p.59], including a minor extinction event at the Lower to Middle Norian substage boundary [Krystyn, 2003) in the sea; and the formerly ubiquitous herbivorous therapsids (the large Dicynodonts and medium-sized traversodonts) on land. The success of dinosaurs over therapsids seems to be due to climatic factors; the increasing aridity meant that the moist biome that had enabled the therapsids to flourish had now become a narrow equatorial strip [Olsen et al 2001], bordered by deserts and semi-deserts to both north and south.
The Norian began as a world dominated by typically Carnian (and hence typically Triassic) forms on both land and in the sea. By the end of the age life, although retaining many earlier forms, was also well represented by clades that would continue to flourish and dominate for many tens or two hundreds of millions of years
MAK
Stratigraphy and Index Fossils
The Norian is the second of the three divisions that make up the Late Triassic period. The term Norian Stage was introduced by Mojsisovics in 1895 and Diener in 1926. It was introduced for the Pinacoceras metternichi and Cyrtopleurites bicrenatus ammonoid fauna of the pelagic Hallstatt Limestone facies in the Hallstatt area (Mojsisovics, 1869 cited in Kozur 2003, and Encyclopædia Britannica]. The term Juvavic was at one time used. It is named after strata in the Eastern Alps. . In Europe there are three marine substages, which in ascending order are the Lacian, Alaunian, and Sevatian, which can be correlated worldwide with ammonoid and conodont biozones. The pdf diagram (by Gradstein et al 2004) shows the various geological and magnetostratigraphy divisions, and ammonoid, conodont, palynological, and land vertebrate (Lucas 1998) biozones, that make up the Norian.
The following is an integrated and obviously somewhat speculative table combines Gradstein, Ogg, Smith et al 2004, Benton 1994, Lucas and Hunt 1994 (table) and Lucas 1998. We have given our own suggestion as well. However the more precise tetrapod stratigraphic correlations are tentative and will no doubt be refined and modified with future research and discoveries.
Norian timescale

MYA
Age
Stage
Ammonoid Zone
Conodont Zone
Pollen Zone
Vertebrates
(Lucas and Hunt 1994, Lucas 1998)
Vertebrates
(Benton 1994)
Vertebrates
(Palaeos suggestion)
205
N
o
r
i
a
n
Sev-
at-
ian
Gnomohalorites cordilleranus

Epigondolella bidentata
Rhaetipollis germanicus
Apachean
NOR L1
late Late Norian
206
early Late Norian
207
A
l
a
u
n
i
a
n
Mesohimavatites columbianus
E. serrulata
Limbosporites lundbladii,
Ricciisporites tuberculatus
Revueltian
NOR M2
late Mid Norian
208
E. postera
209
E. elongata
mid Middle Norian
210
E. spiculata
211
Drepanites rutherfordi
E. multidentata
NOR M1
early Mid Norian
212
L
a
c
i
a
n
Juvavites magnus

E. triangularis
Chasmatosporites spp.
late Early Norian
213
Malayites dawsoni
NOR E
214
E. quadrata
early Early Norian
215
Stikinoceras kerri
216
Metapolygnathus primitius

Norian Tetrapod Index Fossils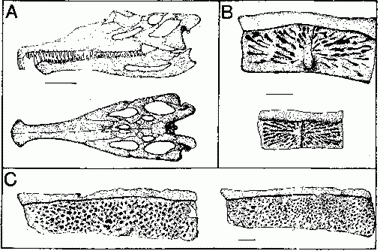 Revueltian index fossils: (A) Pseudopalatus/Mystriosuchus (another common and widespread genus is Nicrosaurus), (B) Aetosaurus paramedian plates, (C) Typothorax paramedian plates.
[from Lucas 1998].
Dr Spencer Lucas (ref) divides Triassic tetrapod evolutionary communities into eight land-vertebrate faunachrons (LVF). Of these, the Revueltian assemblage is defined as beginning with the FAD (First Appearance Datum - earliest fossil occurrence) of the phytosaur Pseudopalatus, and ending (with the beginning of the following, Apachean, age), which the FAD of the phytosaur Rendondasaurus. The Revueltian is considered Norian on the basis of palynostratigraphy, magnetostratigraphy, and sequence stratigraphy. Certainly it corresponds to the later part of the early, and much of the middle Norian. The status of the late Norian is more dubious, since the point of beginning of the following, Apachean, LVF, although tentatively considered Rhaetian, may be in the Norian as well. Moreover, in the famous "Ghost Ranch" fauna (where Coelophysis occurs), both Pseudopalatus, and Rendondasaurus occur together [Ford, 2001, Irmis, 2001], which somewhat muddies the waters.
The following are some tetrapod type fossils from the Revueltian; they belong to two common archosauromorph ("thecodont") clades, the aetosaurs (which left many fossil armour scutes, even partial skeletons are obviously much rarer) and phytosaurs (which, being river and swamp dwellers were often preserved):
Tetrapod Stratigraphy of North America
According to Gradstein et al 2004, the Norian age lasted a fairly considerable period of time: 13 million years, which is almost a third the length of the entire Triassic, and longer than the Paleocene or the Oligocene epochs of the Cenozoic. As with the preceding Carnian, this stage can be subdivided as regards terrestrial tetrapods [see Anderson & Cruikshank 1978, Benton 1994, and Lucas 1998 for varying interpretations]. Problems with stratigraphic correlations remain; we have used Lucas and Hunt 1994 fig 20.5 (below) as a primary guide for the major tetrapod-bearing strata. According to this table, based on correlations of the non-marine Chinle group with the marine strata in western Nevada, none of the Norian tetrapod faunas of south-west USA are earlier than late early Norian (Magnus ammonite zone). In other words, there is a hiatus in the fossil record between the late Carnian (Adamanian land vertebrate age) and the early Norian (Revueltian land vertebrate age). This table is supplemented with the age attributions in Benton 1994; where the two differ I have used Lucas and Hunt 1994.
table from Lucas, S G., and Hunt, A P. 1994, The chronology and paleobiogeography of Mammalian Origins, p.343 in Fraser & Sues (eds.) In the Shadow of the Dinosaurs: Early Mesozoic Tetrapods, Cambridge University Press, Cambridge.
The following is our attempt at a Norian timescale for North America, incorporating the above information.
Norian timescale (North America)

MYA
Age
Stage
Vertebrates
Arizona, Colorado Plateau
Eastern New Mexico
West Texas
East Coast USA
Tetrapod zone
205
N
o
r
i
a
n
Sev-
at-
ian
late Late Norian
Rock Point Formation
Upper Redonda Fm.
Upper Passaic Formation
and Upper Balls Buff / Upper Passaic Palynofloral Zone
Clift
on
ian
early Redondasaurus zone
= (Early) Apachean Age
206
early Late Norian
Middle Redonda Fm.
207
A
l
a
u
n
i
a
n
late Mid Norian
Lower Redonda Fm.
208
209
mid Middle Norian
210
Owl Rock Fm.
Nesh
an
ician
211
early Mid Norian
Upper Painted Desert Member

(Upper)
Bull Canyon Formation
Lower)
Typothorax zone
= Revueltian Age
212
L
a
c
i
a
n
late Early Norian
Cooper Canyon Fm.
Lower Passaic Formation
and Lower Passaic-Heidlersberg Palynofloral Zone
213
Sonsela Member
Trujillo Fm.
Trujillo Fm.
214
early Early Norian
215
216
The Phytosaur-Aetosaur-Metoposaur vertebrate fossil assemblage of the west (Chinle Group and correlatives) is quite different to the capitosaur-prosauropod-turtle fauna of Europe and Greenland. But even the Newark Supergroup of eastern North America of Neshanician and Cliftonian represents a different fauna to that of the South-west. Aetosaurus and Hypsognathus are common (perhaps indicative of a drier climate), phytosaurs and large aetosaurs are rarer. In the south-east there is a relict Carnian-type fauna (including traversodonts and rare dicynodonts), populating a wet equatorial zone
The date of the Typothorax zone is Lower/early Norian in early papers by Hunt and Lucas which only attempt a stratigraphy of American faunas (see table in Benton 1994), and the Redondasuchus zone Middle and possibly Late Norian. In the later work which correlates other faunas (e.g. European) Lucas 1998 Typothorax zone becomes the Revueltian LVA, which now includes at least most or all of the Norian, and the Redondasuchus zone becomes the Apachean LVA, which now includes all of the Rhaetian. However if we assume an average tetrapod species life-span of 2 or 3 million years (as estimated for mammals and dinosaurs) it seems hard to believe that a single species of Apachesaurus, Paratypothorax, or Hesperosuchus each last some twenty million years or more! (Late Carnian + all of Norian + Rhaetian). Although it is conceivably possible (or not) that most later Triassic tetrapod faunas were unusually stable and long-lived, and it is also possible that the Gradstein et al 2004 chronology overestimates the length of the Norian, another explanation might be that due to Late Triassic provinciality (which increased as the period proceeded) meant that the North American and European faunas were not always simultaneous, so that Aetosaurus, say, occurred later in Europe than in south-west North America. This would allow an earlier occurrence for American Apachean faunas, and hence a more realistic lifespan of the occurring species.
The famous Ghost Ranch, New Mexico, fauna provides a good case study for difficulties in dating Late Triassic (or any prehistoric) vertebrates. This assemblage, which features not only the early theropod Coelophysis (perhaps the most famous of all Triassic dinosaurs) but a number of other forms as well, is traditionally dated at late Carnian or Early Norian. The presence of Pseudopalatus shows that it has to be post-Carnian. On the basis of the presence of the phytosaur Redondasaurus Lucas 1998 considers it (The revised international LVF series) to be Apachean (=?Late Norian to Rhaetian) age. As well as Redondasaurus and the advanced podokesaur Syntarsus sp., the fauna contains typically late Carnian ( Adamanian) / early Norian elements, as represented by the sphenosuchian Hesperosuchus agilis [Clark et al 2000] and, supposedly, the aetosaur Desmatosuchus haploceras [See Ford, 2001 and Irmis, 2001 for a species list of this fauna - although of course this assumes that the identification of Desmatosuchus from this locality is correct). Hargrave 1999 considers the Coelophysis quarry to be "no younger than early Norian and is more likely near the Carnian/Norian boundary" on magnetostratigraphic evidence. On the other hand, the Rock Point Formation, in Whitaker (Ghost Ranch) quarry occurs, is just below (and possibly overlaps with the Latest Triassic to Earliest Jurassic Wingate Sandstone, which favours either a Rhaetian age or a Middle or Late Norian. Benton 1994 gives the age of the Rock Point Member of the Chinle Formation as Late Middle Norian. Pending more precise analysis, the date of the Whitaker quarry / Ghost Ranch fauna will remain somewhat debatable.
Tetrapod Stratigraphy of Europe and Asia
Norian timescale (Europe and Asia)

MYA
Age
Stage
Vertebrates
England & Wales
SW German Keuper
Greenland
North Italy
Thailand
Tetrapod zone
205
N
o
r
i
a
n
Sev-
at-
ian
late Late Norian
Fissure Fillings
(lower complex "A")
? ? ?
Knollenmergel
Fleming Fjord Formation: Ørsted Dal Member
(non tetrapod)
Plateosaurus longiceps zone
206
early Late Norian
Upper Stubensandstein
207
A
l
a
u
n
i
a
n
late Mid Norian
Middle Stubensandstein
Zorzino Limestone
Huai Hin Lat Formation
Mystriosuchus zone
208
Forni Dolomite
209
mid Middle Norian
(non tetrapod)
210
211
early Mid Norian
Lower Stubensandstein
Proterochersis zone
212
L
a
c
i
a
n
late Early Norian
213
Lehrbergstufe,
etc
214
early Early Norian
215
216
A single broad fossil assemblage seems to occur in the Stubensandstein of the German Keuper; the Ørsted Dal Member of the Fleming Fjord Formation, Greenland; the Zorzino Limestone and Forni Dolomite, northern Italy; and as far east as Thailand (the Huai Hin Lat Formation). This wide-ranging fauna is characterized by the phytosaur Mystriosuchus (unknown in North America or Gondwana), the early chelonid Proganochelys, and (in Germany and Greenland) the prosauropod Plateosaurus. In the Keuper Mystriosuchus planirostris is found only in the Middle Stubensandstein, where it is common. It's occurrence in the Zorzino Limestone - dated to latest columbianus ammonite zone - provides a good marine tie-point. For this reason in the above table the Middle Stubensandstein is considered to be late Middle Norian/Alaunian. The Upper Stubensandstein (where Mystriosuchus is unknown; if that information is incorrect please contact me!) must therefore be early Late Norian/Sevatian, rather than Late Alaunian as it is usually shown (e.g. [Benton 1994].
Tetrapod Stratigraphy of Gondwana
Norian timescale (Gondwana)

MYA

Age

Stage

Vertebrates

Argentina

Brazil

Africa

India

Tetrapod zone

205

N
o
r
i
a
n

Sev-
at-
ian

late Late Norian

Basal
Los
Colorados

Lower Elliot Formation

Dharmaran Formation

Euskelosaurus zone

206

early Late Norian

207

A
l
a
u
n
i
a
n

late Mid Norian

Molteno Formation

208

209

mid Middle Norian

210

211

early Mid Norian

Lower Dharmaran Formation

212

L
a
c
i
a
n

late Early Norian

213

? ? ?
Jachaleria zone


214

early Early Norian

215

Catturita Formation

216
With the exception of southern Africa, Norian Gondwana faunas are not as well known as those of the preceding Carnian and following Rhaetian. Moreover, they are highly provincial. The large dicynodont Jachaleria is found in both Brazil (the " Jachaleria zone" of the Catturita Formation) and Argentina (Basal Los Colorados) and clearly was an important element in west Gondwana. The lower part of the Dharmaran Formation, India, reveals a hybrid fauna that combines Gondwanan (chugitosaurid) and Laurasian (phytosaurs, Paratypothorax) elements. The Lower Elliot Formation, which seems to Late Norian [Lucas and Hancox 2000] rather than (as usually stated on the basis of Dicrodium flora and traversodont therapsids) Late Carnian, there is a rich assemblage of large sauropodomorphs, including the earliest known true sauropods. This is somewhat similar to plateosaur-dominated fauna of Europe, but very different to the phytosaur-aetosaur-metoposaur assemblage that continues into the Rhaetian in North America
The Los Colorados of Argentina reveals a similar preponderance of large sauropodomorphs to Europe and Southern Africa. The dating of the Los Colorados (Argentina) is uncertain, and may be of either Late Norian or Rhaetian age. In view of its advanced "transitional" Early Jurassic elements we have chosen a date of Rhaetian for the Los Colorados (which therefore is considered in more detail in the next Unit). In any case, both these high southern latitudes show a fauna rich in sauropodomorph megaherbivores.
Norian Reefs - Diversification, Extinction, and Greater Diversification
During the Norian age, reefs are known from both the Tethys Seaway and the West Pangean / North American island-arc terranes. This is shown in the above map. The Tethyan reefs are on the right of the Pangean landmass (around the edge of the mouth of the "Pakman"), the American reefs on the left. The two provinces followed somewhat different histories
The Tethys-Panthalassan Reef Province:
As can be seen from the above map, reefs are distributed throughout a vast shallow Tethys seaway as well as around Panthalassan island outposts and terranes.
The Late Carnian-early Norian interval saw major reef extinctions here, with the loss of older sphinctozoid and coral species (90% of species dying out), but diversity was maintained with reciprocal replacement by new taxa, with reefs were characterized by a diversification of sponges and corals [Stanley 2001, with the emergence of the latter as reef builders [Stanley 2003]. These then in turn become extinct, possibly a result of a sudden global cooling, since the same period saw the extinction of tropical, low latitude ammonoids and their replacement by more cosmopolitan forms Krystyn, 2003). The early Norian Tethyan-Panthalassan reef systems are replaced by a much larger reef development during the latest Triassic (mid-Norian to Rhaetian), which extended up to 30°N and 35°S, coinciding with a major rise in global sea-level. At this time new higher taxa appear, sphinctozoid sponges diversify, and scleractinian corals come to dominate; these two groups constituting a new reef building consortium. These are associated with a diverse selection of other reef organisms. This was a period of worldwide expansion of carbonate platforms (limestone laid down by reef organisms) and maximum reef diversity [Stanley 2003].
The West Pangean Reef Province:
The Triassic reef record for West Pangean / North American island-arc terranes is poor prior to the Norian. The Norian saw a great expansion here, with latitudes similar to those of the Tethys, but beginning even earlier, in the earliest Norian, and continuing through to the Rhaetian . Rare subtropical Carnian patch reefs are known from the western Canadian craton. Although these reefs lacked the development and carbonates deposits of their Tethyan equivalents, these were still high diversity communities, of which at least half were Tethyan species [Stanley 2003].
During the Mid Norian there is the appearance in the West Pangean reefs of more Permian Lazarus taxa than in the Middle Triassic [Stanley 2001]; presumably these forms had remained rare and geographically isolated (Panthalassan volcanic islands might have served as refuges during times of crisis when the Tethys was affected [Stanley 2003]), and possibly Middle Norian conditions were similar to those of the Permian.
The Ammonoid Saga
Ammonoids are important stratigraphic markers, because of their rapid evolutionary change. These shelled cephalopods (especially those of the Order Ceratitida) were so common and diverse during the Triassic that it has been suggested that this period be called the "Age of Ceratites". But by the Norian, the Ammonoids were on the wane, following their maximum diversity during the Carnian. During this period, ammonoids experienced both gradual change and more dramatic turnovers and occasional extinction events. New discoveries have however shown some unexpected results.
It was previously thought that the Carnian-Norian stage boundaries showed extinctions of many Carnian genera and new Norian forms that replaced them. But new data show considerable overlapping ranges of many genera considered previously as distinct boundary markers, and no extinctions on the family level are observed. (the same has been shown to be the case for the Ladinian-Carnian extinction. [Krystyn, 2003)
A strong turnover at the Lower to Middle Norian substage boundary, in which a tropitacean rich association of tropical, low palaeolatitude affinity is suddenly replaced by a Trachycerataceae dominated fauna of less palaeoclimatic restriction Krystyn, 2003) , seems to indicate a sudden climatic cooling. This was also a period of extinction and turn-over for reef organisms, as the Late Carnian-early Norian reefs made up of corals and sponges died out, to be replaced by the mid-Norian to Rhaetian associations involving sphinctozoid sponges and dominating corals. [Stanley 2001]
A more gradual faunal shift, with overlapping generic ranges, occurred at the Middle (=Alaunian) to Upper Norian (=Sevatian) substage boundary; which seems to be the period during which prosauropod dinosaurs came to dominate terrestrial ecosystems
A much larger extinction event occurs at the traditional Norian-Rhaetian stage boundary (i.e., top of the Reticulatus Zone) and is characterized by the demise of all trachyostracean ammonoids of the superfamilies Trachycerataceae, Clydonitaceae and, Tropitaceae. [Krystyn, 2003) As a result of this, the Rhaetian ammonoid fauna was much more impoverished.
At the base of the Rhaetian, defined by the FAD of M. posthernsteini and C. suessi / C. amoenum, a distinct faunal change can be observed not only for ammonoids, but also bivalves, brachiopods, conodonts and radiolarians. [Kozur 2003]
---
---
---
page uploaded 10 May 2005
text content by
M.Alan Kazlev
2005, Creative Commons Attribution Non-Commercial License versions
1.0
and
2.0
images on this page are copyright respective artists or authors