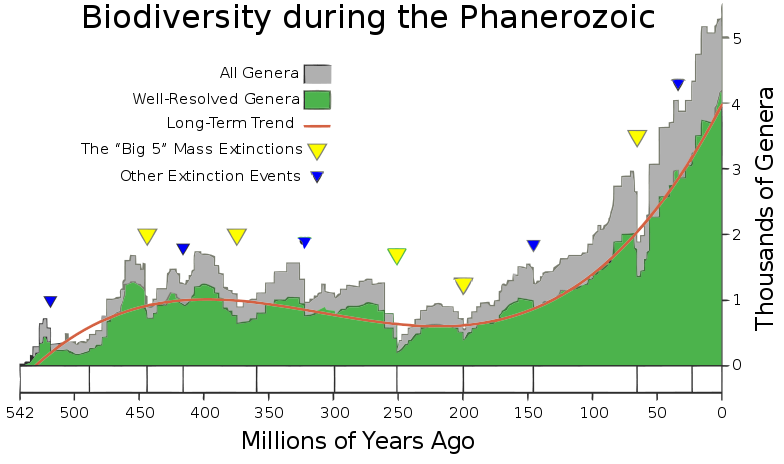 This image shows the biodiversity during the Phanerozoic. Note that this is a result of changes in both the rate of extinctions and the rate of new originations. The Dresbachian extinction event in particular is obscured by nearly immediate replacement with new genera.
Colour code:
grey = total known genera from Sepkowski's catalogue (cited by Rohde & Muller)

green = "well-defined genera", i.e. known genera excluding those represented by "single occurrences" and those whose dates are uncertain.

red = trend for "well-defined genera". Derived by fitting a third-order polynomial to the data.

yellow = the "Big Five" mass extinctions.

blue = other extinction events.
Reference: Rohde, R.A., and Muller, R.A. (2005). "Cycles in fossil biodiversity". Nature 434: 208-210. pdf.
this version of diagram by Albert Mestre via Wikipedia.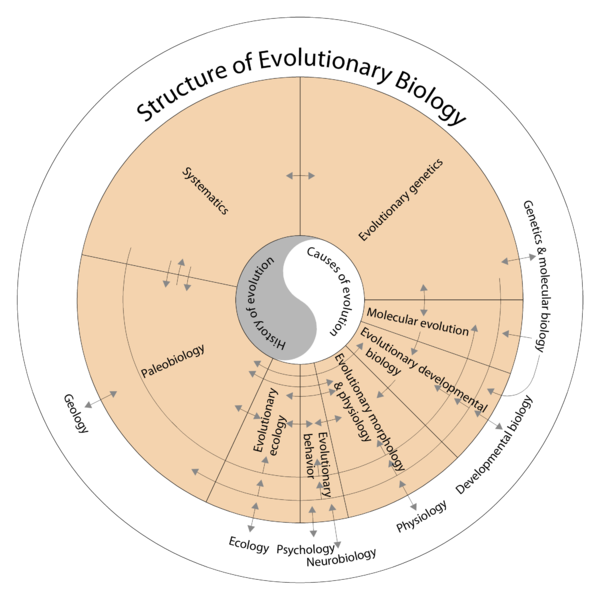 The structure of evolutionary biology and its relationship to other biological disciplines. The history and causes of evolution (center) are the subject of the various subdisciplines of evolutionary biology (inner ring), which grade into one another and, as shown by the arrows, are related both to one another and to other disciplines (outer ring). The areas of the segments in the diagram convey an impression of the historical contributions of the subdisciplines to the literature of evolutionary biology.
Spiral shell morphospace