---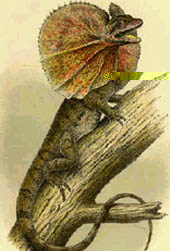 Agamidae: Small to large "Old World Iguanas."
Acrodont, heterodont marginal teeth; Many with dentary fangs; dentary canal for Meckelian cartilage open; adductor fossa small to moderate; palatine & pterygoid teeth absent; nasals paired; nasals contact prefrontals; frontals fused; borders of frontals constricted between orbits; broad frontal shelf below nasals; postfrontal & postorbital present as separate elements; eyelids well developed; pineal foramen present; maxilla extends back between orbits; jugal large & post-orbital bar complete; jugal-squamosal contact on supratemporal arch; supratemporal fenestra widely open; supratemporal bone present; parietals fused; opisthotic fused with exoccipital; >6 cervical vertebrae; <26 presacral vertebrae; zygosphenes & zygantra absent; moderately long tail; well-developed limbs; 5th toe absent or reduced; often conspicuously scaly; visually oriented lizards with frill, horns, bright colors common (most frequently in males); largely insectivores, but some herbivorous; generally oviparous; autotomy rare, but convergently developed in some groups as intervertebral break; autotomy septa never present; diurnal; terrestrial or arboreal.
Comments: A large and diverse family of 2 subfamilies, 52 extant genera with more than 400 species; these are small to medium-sized, terrestrial lizards, mostly insectivores, differ from the Iguanids in that their teeth are on the rims of the jaws.
Image: Chlamydosaurus kingii from the Virtual Museum of Natural History, reproduced by permission.
Links: The signal to noise ratio for websites on this taxon is particularly low. Agamidae EMBL); Jon Loman - herp photos; Dragons of Townsville; Animal Diversity Web: Family Agamidae; Agamidae; Squamata/AGAMIDAE/agamidae01.html">Reptilia, Squamata, Agamidae - Agamen; BEARDED DRAGON - POGONA - FROM AN AUSTRALIAN PERSPECTIVE.; LIZARDS of JAPAN; Agamidae; Agamidae.html; Agamidae Familyasi; Gli Agamidi, Agamidae Italian); familia Agamidae; Agamidae (Dragon Lizards).
References: Caldwell 1999); Macey et al. (2000a). ATW021207.
---
Amphibolurinae:Physignathus, Moloch, Australian agamids.
References: Macey et al. (2000a).
Links: The Reptiles of Australia, Agamid page; Moloch; Chinese Water Dragons (Physignathus Cocincinus); Digimorph - Physignathus cocincinus (Chinese water dragon); Physignathus Leseurii. ATW031026.
---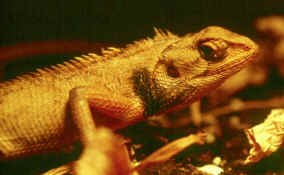 Draconinae: Calotes, Draco, Japalura, Sitana, South Asian & Sri Lankan agamids.
Characters: "horns" (not always present, but only in draconines)
Image: Calotes versicolor from the Virtual Museum of Natural History reproduced by permission.
Notes: There is enormous variation in the members of this group, which seem more closely related by geography than by any easily determined physical characteristics. Most are long-bodied insectivores with varied spines and color display characters. The links above are only a very small sample of the resources available on the species in the taxon. ATW020720.
Links: What's It Like Where You Live?; Species: Japalura; Lizards of Japan; Species: Sitana; Bloodsucker Lizard; Agamidae; Laboratory of Animal Systematics (Japanese); CMV, Brainatlas of Calotes versicolor; changeable lizard (calotes versicolor): info fact sheet, photos; Rostral Horn Evolution among Agamid Lizards of the Genus ... phylogeny of horns).
References: Macey et al. (2000a). ATW040707.
---
Chamaeleonidae: chameleons! Brookesia, Chamaeleo, Furcifer
from the Paleocene (Thanetian). Presently in Africa and Madagascar, with a few species in the Middle East, Asia, and Southern Europe.
Characters: 2.5 - 50+ cm; Protrusible tongue; acrodont teeth, independently moveable, raised eyes; body laterally compressed; prehensile tail; digits modified for grasping (2-3 digits modified to form grasping pads); color change; often elaborately ornamented with horns, etc.; insectivorous.
Comments: about 130 extant species, about half of which are from Madagascar. Most are small insectivores, 15–25 cm long; but the smallest, the tiny Brookesia minima, is only about 3 cm long and one of the world's smallest reptiles, whereas the largest, Furcifer oustaleti (image, right), can reach over 60 cm and is known to eat small birds and other lizards. & Arboreal, tails and feet adapted for climbing, eyes able to move independently, skull may have horns or crests. Tongue half as long as animal (used to catch insects)
Links:Familia Chamaeleonidae; Marikan herppisivut (Finnish); CiN - Chameleon information NETWORK; Animal Diversity Web: Family Chamaeleonidae; chameleon; The Chameleon Journals; Chameleons; JEB -- Summaries: Meyers and Nishikawa 203 (18): 2833; Chamaeleonidae.html; I Camaleonidi, Chamaleonidae (Italian); The Reptipage: Chameleons; chameleon. The Columbia Encyclopedia, Sixth Edition. 2001 Wikipedia.
Image: Furcifer oustaleti from Herp Pictures - Lizards (former site). ATW011112, modified MAK101106.
---