The Wenlock
The Wenlock Epoch of the Silurian Period: 428 to 423 Mya
During the Wenlock the oldest known tracheophytes (true land plants), of the genus Cooksonia, appear. The complexity of slightly younger (Ludlow) Gondwana plants like Barragwanatha indicates either a much longer history for vascular plants, perhaps extending into the early Silurian or even Ordovician, or else a misdating of the Barragwanatha sediments.
Stratigraphy
Epoch
stage
page)
graptolite zone
English formation
Baltic Stratigraphic sub-zone

Wenlock

Homerian

latest

Monograptus ludensis
Wenlock
Tickwood
late
Gothograptus nassa
middle
Crytograptus lundgreni
Sheinwoodian
early
Marine Invertebrates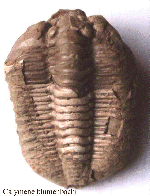 near Wenlock Edge in Shropshire, England.
collected by Tom Levinson
---
Vertebrates
Jawless fishes
Class: Osteostraci

Class: Anaspida

Pharyngolepis

Lasanius

Birkenia
---
page uploaded 10 June 2002
(original uploaded on Kheper site 28 May 1998)
checked ATW031020
page design by
M. Alan Kazlev
1998-2002