Hydrozoa
Cnidaria
Hydrozoa
Hydrozoa:
Hydroids and Hydromedusae.
From the Ordovician
This class includes hydroids and hydromedusae. $ Medusae small. $ Cnidocysts epidermal.
This very diverse class of cnidarians many of which have a true alternation of generation in its reproductive cycle. That is, they passes through both the medusa and the polyp phase. Many groups secrete a chitinous skeleton in the polyp stage. In some groups the polyp stage is colonial and secretes a calcareous skeleton, like a coral. There are seven orders altogether, including:
---
Trachylina - medusa stage only. These are perhaps the most primitive Hydrozoa. : Gonionemus
---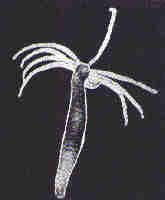 Hydra - a small simple freshwater Hydroid,
named after a mythical Greek monster
image copyright xxxx

Hydroida - Ordovician? to Recent - colonial attached polyps. The free-floating medusa stage may be present or absent. Includes most types of Hydrozoans. Freshwater or marine, solitary or colonial, soft-bodied or with skeleton. There are two suborders: Anthomedusae (Hydra, etc) and Leptomedusae. In the latter the polyps always colonial. e.g. Obelia (left), Sertularia
---
Siphonophora - Large and complex swimming or floating colonies, with division of labour. Jellyfish-like, but with a float or sail-like structure. Mainly tropical. Includes the unusual Portuguese Man-of-War (genus Physalia).
---
Milleporina (should be Milleporida?) (Tertiary - Recent) - Reef builders, massive calcium carbonate skeleton. Marine. Also called Stinging Coral and Fire Coral. The Milleporina and Stylasterina have in the past been included together under the order Hydrocorallida
---
Stylasterina (should be Stylasterida?) (Tertiary - Recent) Reef builders, very like the Milleporina, but with a thick layer of tissue overlying the skeleton
---
Spongiomorphida (Triassic - Jurassic). Massive colonies with radial pillars united by horizontal bars. Resemble Stromatoporoids.
---
Chondrophora: Colonial or specialized polypoid individuals, e.g. Velella
---
Alternation of Generations - Ontogenic Metamorphosis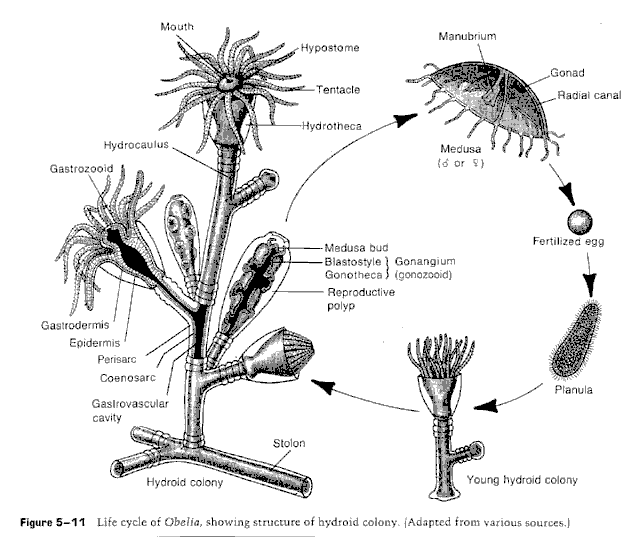 image copyright xxxx
The above illustration is of Obelia, a Hydroid that passes through both the medusa and the polyp phase. This organism goes through stages where it is in effect a different organism, a true metamorphosis .
The philosopher and inventor Arthur M. Young observes that the life cycle of this simple organism passes through a complete series of stages according to process theory:
"(1) starts as a single cell [the fertilized egg]; (2) becomes multicellular [3] acquires a shape (identity) [planular stage]; (4)fastens to the ocean floor [hydroid colony]; (5) grows in plant-like fashion; (6) flowers break off into mobile jellyfish (the animal stage); (7) fertilization."
[The Reflexive Universe, p.122]

image copyright xxxx
---
Division of Labour
Hydrozoan colonies frequently exhibit polymorphism, with different polyps taking on different morphologies and performing different functions (reproduction, feeding, etc.). Each colony is a super-organism, like an ant-hive.
image copyright xxxx
---